Introducing the Ballarat Community Health 2020 All Abilities Access & Inclusion Plan
At Ballarat Community Health we work to promote health and wellbeing, and to
provide quality and affordable healthcare to our community. From primary care to
community wellbeing programs, we take a holistic approach to better health. We
know everyone is different and we work with the community wherever possible,
to create consumer-led and informed services, ensuring more effective care for
individuals and their needs.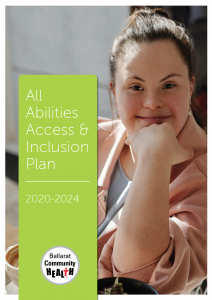 People with disability participate in all our services and programs,
volunteer and work for the organisation. We are a registered provider of the
National Disability Insurance Scheme (NDIS) and deliver several programs
specifically for people with disability. Many of our staff have specialist skills
and knowledge relating to disability support.
This All Abilities Access and Inclusion Plan 2020-2024 reflects Ballarat Community Health's commitment to the principles of the Disability Discrimination Act (1992) and the Victorian Disability Act (2006). It commits us to providing equitable and easy access to all our services, facilities, programs, communications and employment processes.
Click here to view the report.