Everyone has the right to feel safe with their partners or family.
Family violence is any behaviour that is intended to make an individual or their family feel scared and unsafe. But it isn't always physical, it includes verbal or emotional abuse and controlling behaviours. It can happen to anyone, at any time. 
To highlight this prevalent issue for more than one million children in Australia, we asked Ballarat youth to contribute their thoughts and creativity in the space of family violence, for our It Starts With You postcard competition. View the third submission, from Finn, below.
You can download Finn's digital postcard here as well as an A4 printable version.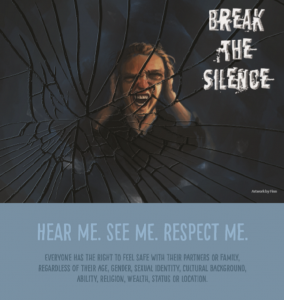 'For my entry, I wanted my message to be conveyed by the feelings the image elicits.
Firstly, I tried to make it bold and striking to represent the decisive action that needs to be taken. Secondly, I wished to show strong emotions to represent the feelings that victims of family violence are often not able to express.' – Finn
It Starts With You postcard campaign was developed by the Safer Pathways project, and supported by the Australian Government Department of Social Services. Go to www.dss.gov.au for more information.
[1] Australian Domestic and Family Violence Clearinghouse 2011, The Impact of Domestic Violence on Children: A Literature Review.
[2] Australian Institute of Health and Welfare 2019. Family, domestic and sexual violence in Australia: continuing the national story 2019—In brief. Cat. no. FDV 4. Canberra: AIHW.