Let me love you, not fear you.
More than one million Australian children are affected by family violence.
Children and youth who are exposed to family violence, either directly or indirectly, can experience long-term effects on their physical and emotional health and wellbeing.
It isn't just being exposed to, or witnessing, violence that can have a traumatic impact on children and youth; family violence can cause homelessness, isolation, break up families, and result in mental illness for children who are affected. In 2017–18, over 26,000 clients seeking specialist homelessness services as a result of family or domestic violence were aged 0–9.[2]
Despite this, there are few studies that provide insights into children's own understandings of the violence.
So we asked…
Young people aged 12 to 25 to express their views on the impact of family violence for their generation through an art and messaging competition, during the COVID-19 pandemic. Judges selected the top entries in each category to make up our It Starts With You postcard campaign, highlighting the voice of youth against family violence.
Each week, for the next three weeks, BCH will release a postcardbch-postcards-v5-hr-1 from the campaign and make it freely available for download in PDF format through our website.
Break the silence.
This week's postcard is from Chi, who won the overall competition. You can download Chi's digital postcard as well as an A4 printable version.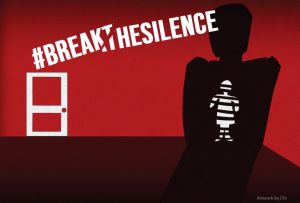 'The main goal was to catch the attention of the viewers by first glance with a simple but effective concept.
Victims of family violence are stuck in their own homes like a prisoner shown in the white figure and black stripes, she is powerless, cornered by a more dominant silhouette. The shadow is approaching her with red bloody atmosphere indicating of harming the victim.'
– Chi, competition winner.
It Starts With You postcard campaign was developed by the Safer Pathways project, and supported by the Australian Government Department of Social Services. Go to www.dss.gov.au for more information.
[1] Australian Domestic and Family Violence Clearinghouse 2011, The Impact of Domestic Violence on Children: A Literature Review.
[2] Australian Institute of Health and Welfare 2019. Family, domestic and sexual violence in Australia: continuing the national story 2019—In brief. Cat. no. FDV 4. Canberra: AIHW.