The School Focused Youth Service (SFYS) were excited to deliver over 400 art activity workbooks and art material packs to 26 local primary and secondary schools last week, as part of the Art Connection project.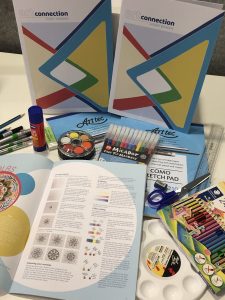 After a long period of remote learning, the project provides a creative and encouraging avenue for students to re-connect with school, whilst developing self-expression and imaginative thinking through fun activities.
The very talented staff in the Arts & Wellbeing Team at Ballarat Community Health created 16 art activities for the workbook, based around the philosophy of 'busy hands, calm mind'.
Each activity teaches new skills, inspires creative thinking, relieves stress and gives students' a sense of achievement, all whilst reconnecting students with their teachers and peers.
You can view the 2022 full workbook here.
If you are an educator, you can view the educators guidebook here.