Introducing the Tight Arse Cookbook!
?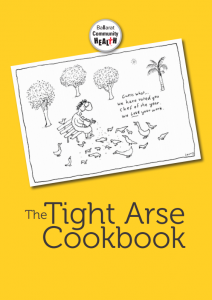 This cookbook was created as a resource for people to get confident with cooking on a budget, rather than opting for take away and supermarket fast food options—but it can also be useful during the coronavirus pandemic!
Cooking boosts both confidence and self-esteem, cooking for others creates connectedness and a sense of worth. Cooking for yourself not only helps you eat more healthily, but it also sends you a message that you are important. Each meal will feed at least two people, enabling meal portions to be shared, frozen, or used as leftovers for the next meal. The instructions are simple. Living skills programs are encouraged to utilise this cookbook.
Click on the cookbook
to view or download it!