Gambling harm: All-In Project
This project, All-In: Reducing the Harms From Gambling, is a preventive health initiative designed to engage organisations in the Ballarat community and support them to implement actions to reduce the risk of gambling harm in the community. Through this partnership approach the aim is to reduce the stigma associated with gambling harm, building understanding, promote help seeking for those impacted and promote alternative recreation opportunities instead of gambling.
There are significant harms associated with gambling that are experienced across the spectrum of gamblers – including low, moderate and high-risk gamblers. These harms include, but are not limited to:
adverse financial impacts – including economic hardship, bankruptcy, indebtedness and loss of assets including the family home and retirement savings
crime
reinforcing factor for family violence
depression, suicide ideation, attempted suicide and suicide
child neglect
disruption to study and work
increased demands on the health and welfare sector
reductions in charitable donations and fundraising
food insecurity.
Resources
We have some fantastic resources you can look into, that will help you and your organisation to better understand gambling and its associated harms.
We have developed this action guide on how to prevent gambling harm, specifically for organisations, businesses, community groups and sporting clubs. This guide provides a series of suggested actions that organisations can take to reduce the risk of harm from gambling within their workplace, sports club or community group.
Another fantastic tool is these 10 key questions for your organisation about preventing gambling harm, which has been developed to guide you in a discussion about your organisation's readiness for action. The All-In Project Officer can provide support and guidance with this process.
Hear more about the project here
Hear more about the project here
See the Project Outcomes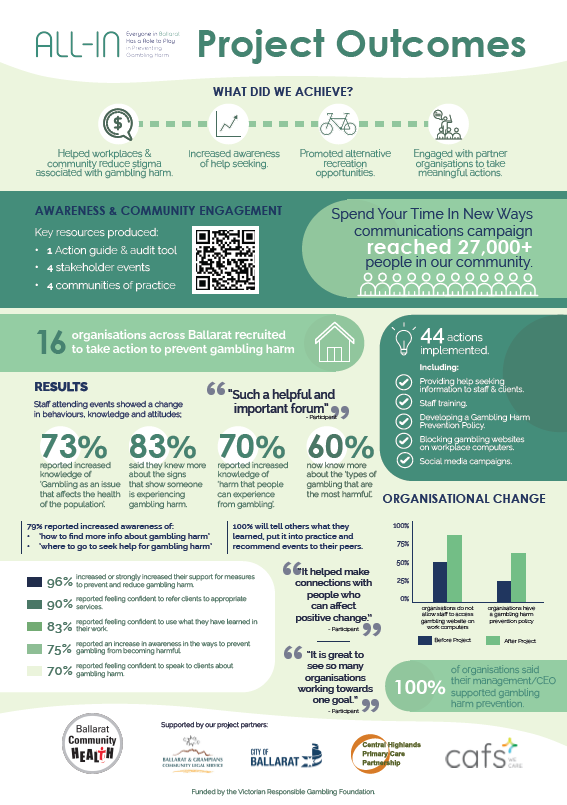 Get involved!
Lend your support to this project by downloading and sharing the below social media tiles, using the hashtag #takeabreakfromgambling.
| Facebook tiles | Instagram tiles | Twitter tiles | A3 posters |
| --- | --- | --- | --- |
For further information please contact the All-In Project Officer or Health Promotion Manager on 5338 4178 or [email protected].